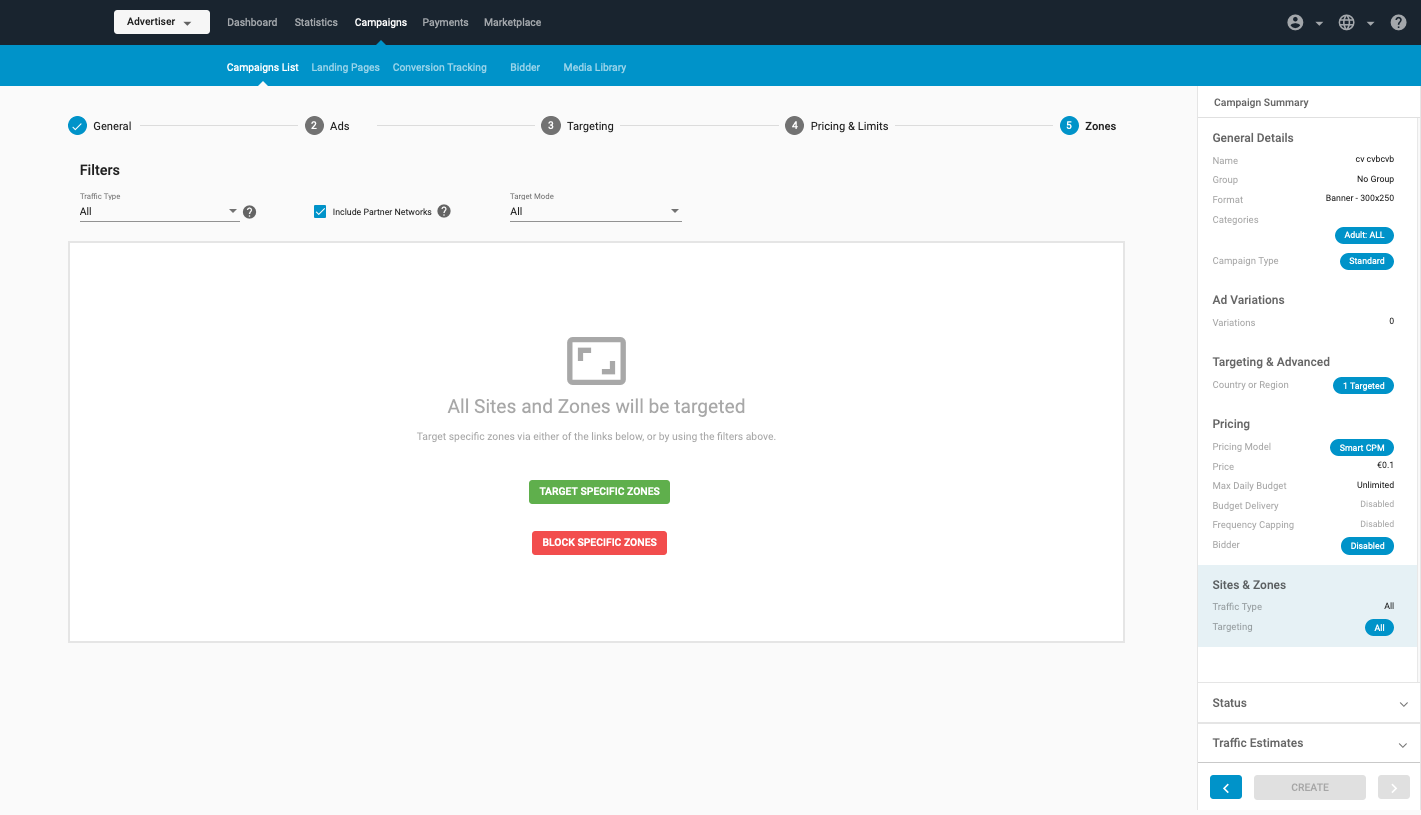 In this tab you can set which websites and zones you wish to target with your campaign. By default, all sites and zones are targeted, but you can use the filters to target your campaign more specifically.
---
Note: If you have switched on the bidder in Step 4: Pricing & Limits, then you will see Automatic Optimization Mode Enabled at the top of this tab and the rest will be greyed out, as your site targeting is being done for you.
---
Selecting which sites to target

At the top of the tab, you can use the filters to select which sites you wish to target.
Traffic Type: In this drop-down, you can select from sites on the RON, Premium, or Members Area networks. Tick the Include Partner Networks checkbox to include partner network sites with the standard ones.

Target Mode: Here you can select whether to target All sites on the selected network, Include only particular sites, or Exclude them.
Once you select a Target Mode other than All, a list of zones will appear in the bottom half of the screen. You can select individual zones by ticking the checkbox to their left. To add a large number of sites at the same time, click on BULK SELECT ZONES, and add your list of comma-separated Zone IDs.
You can use the drop-down filter to the top right of the list to filter the list according to the targeting that you set in Step 3: Targeting: Choose Targeted to only show the zones you targeted in Step 3, or Global to show all zones.
Creating the campaign

On the right side of the screen in the Campaign Summary section, you will see a summary of the campaign targeting settings. Review this information together with the estimated traffic volume. When you are satisfied, click Create to create the campaign.