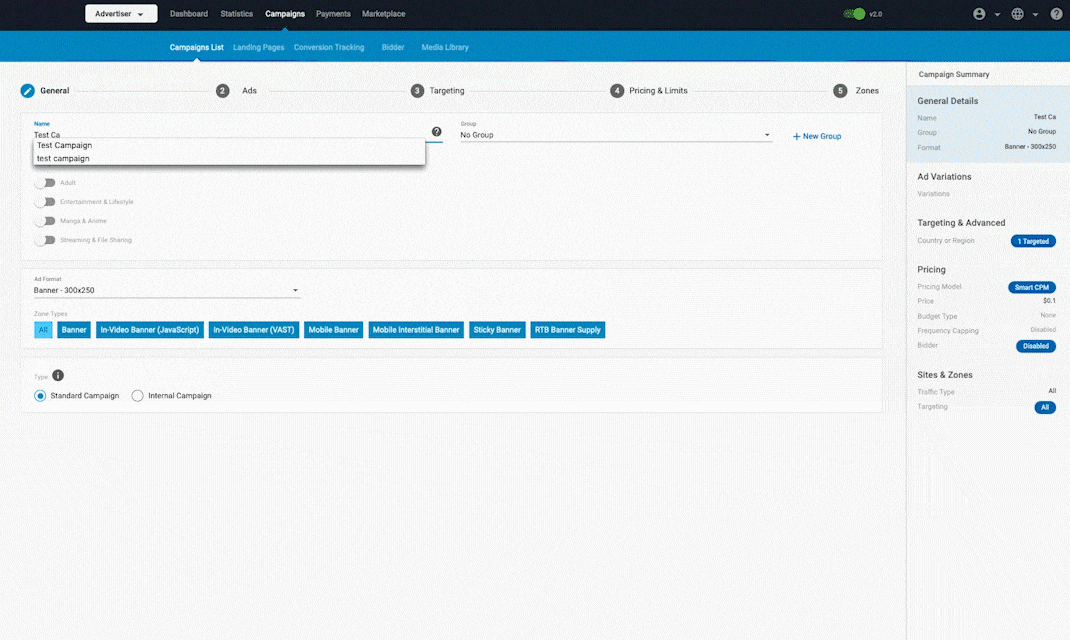 To start testing your traffic , you must create a campaign. To do this, from the main screen of the Admin Panel, click on Campaigns, then Campaigns List, and select New Campaign. There are four main steps that you will follow to create the campaign, and you will proceed through them from left to right.
Adding General Details

First, add the following information to the General Details tab:
Name: Select a name for the campaign that will allow you to identify it easily when viewing your statistics.
Group: Select a group for this campaign from the drop-down, or click +New Group to create a new one.
Categories: Turn on the switch beside the categories you would like to target. By default All will be selected. To exclude specific categories, click on them.
Ad format: Choose the ad format that you wish to use from the drop-down.
Zone Type: Choose which zone types you wish to target. By default All will be selected. To exclude specific zone types, click on them.

---
Note: If creating a Native Ad you will see a Show Zones with Title checkbox beside the Zone Type. This checkbox ensures that the ad will only target zones that allow the ad to show a title. Checking this box will also affect what zones show in Step 5: Zones.
---
Choosing an internal or an external campaign
---
Note: This feature is only available to users with SaaS features enabled on their account.
---
Publishers can also create 'internal' campaigns that run only on their own websites and do not create any revenue in our system. As an Advertiser you can leave this section set to Standard Campaign.

As a Publisher, you can use this feature to run ad campaigns that will only show on your own websites. You could use this to run campaigns promoting internal offers or those from a third-party advertiser that you deal with directly.
Find out more about this feature here.