The Media Library is where you manage and upload the creative assets such as pictures and video that you use in your campaigns. To access the Media Library, click on the Campaigns tab, and select Media Library.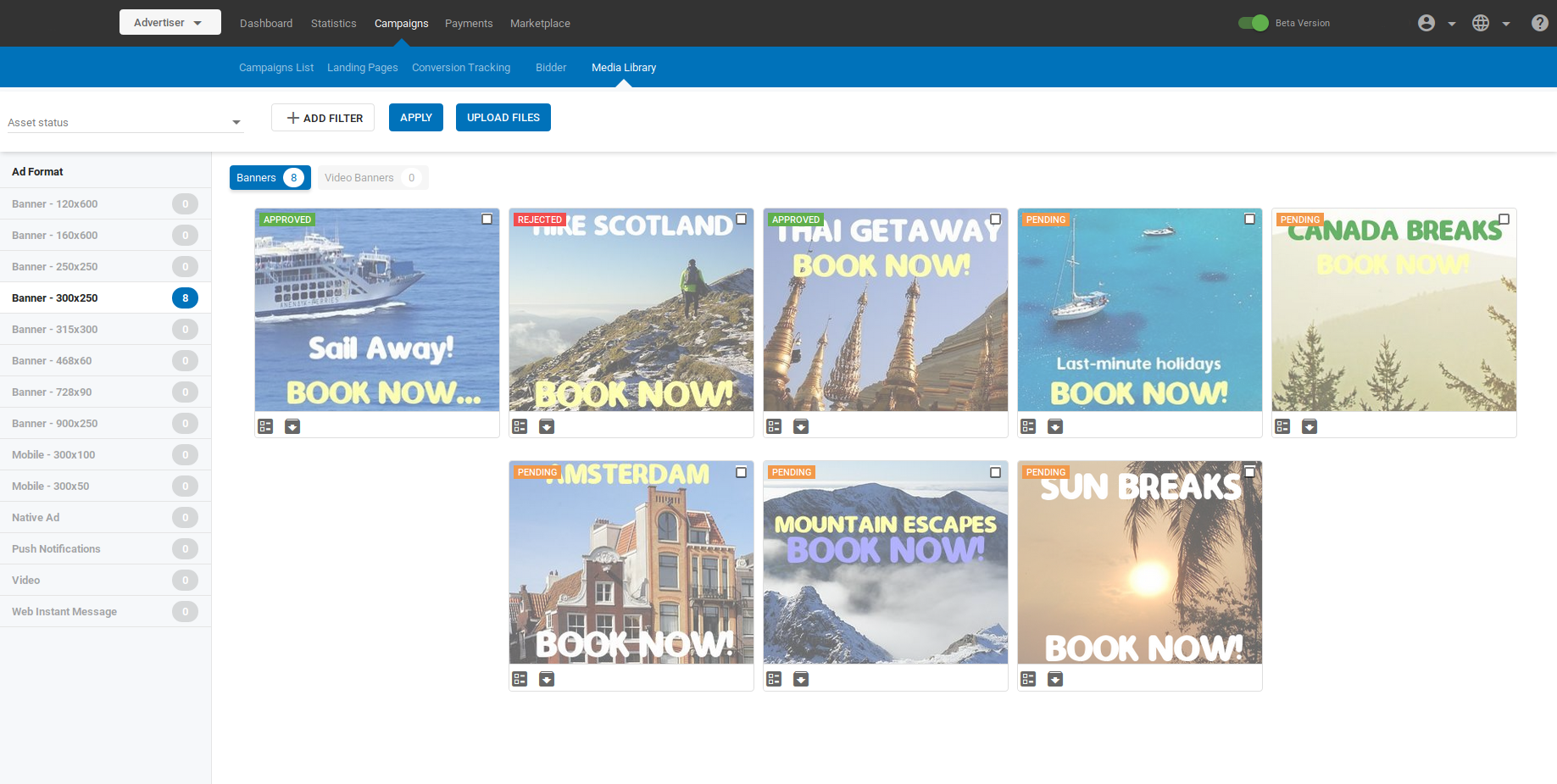 Checking the Status of your assets

In the Media Library tab, you can see thumbnails of the images/videos which have already been uploaded, with their status clearly marked as Approved, Pending, or Rejected.
Uploading assets

You can upload files to your Media Library by clicking on Upload Files and selecting the files that you require.
Viewing image details

For each thumbnail image, click the three dots to see the details of the asset. You will see the Image Details screen:
ID: The ID number of the asset.
Status: The status of the asset (Approved, Pending, Rejected).
Labels: Any labels associated with the asset, e.g Banners - Animated Images.
Target Audience: The target audience label for the asset.
Product Category: Which of the categories that asset belongs to.
Original File Name: The filename that the asset was uploaded with.
Campaigns: The campaign(s) that this asset is used in. Clicking on the links for each campaign will take you to the Campaign List screen for that campaign.
Your Tags: Here you can add any tags to identify the asset in searches. When you have added the tags that you need, click Save.
Finding Assets in the Media Library Screen

You can filter the assets that show in this screen using the drop-down menus at the top of the screen:
Asset Status: You can use these drop-downs to filter the assets by whether they have been Approved, Rejected, or are Pending Approval.
With/Without: You can choose to show assets with or without certain features. Simply tick the features that you want to include in the With drop-down, and tick the features to exclude in the Without drop-down.

Search Tags: Here you can search for assets using any tags that you have added in the Details screen of any asset.

Search for original files names: In the Select Ad Assets screen, images are identified by IDs, but you can search for the file name that the file was originally uploaded with. Simply type all or part of the filename into the field.

Show Archived: When assets have been archived, you can choose whether to show them in this screen or not.

Banner ID: You can search by Banner ID in this screen as well.