Creating your ad zones

To create an ad zone, follow the steps below:

Click on the Sites & Zones tab, then click the New Zone button

 

When you click the New Zone button, you need to select the website(s) where the ad zone will be added. If there are multiple sites available, they will appear in a drop-down.
On the left side, you will see all the ad zone formats available. Select the one you wish to use and click Next at the bottom of the page.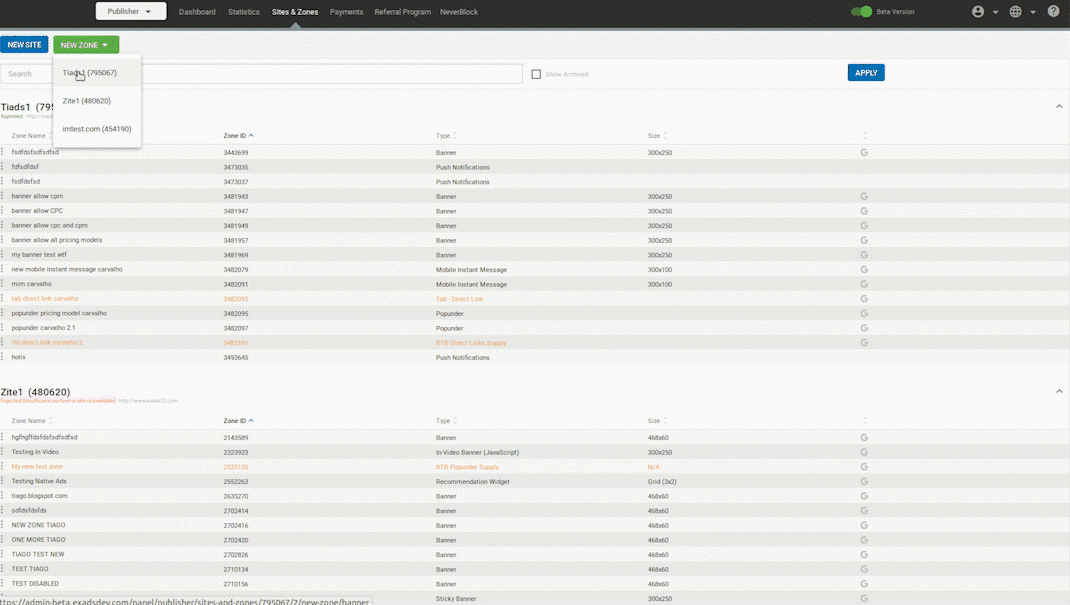 ---
Note: One account can have a maximum of 600 active zones. There is no maximum number of archived zones.
---
Completing details for the new zone

Depending on which format of ad zone you selected, you will need to fill in and select different details in the next screen. The details below are common to all ad zone types:

Name: The Name should be completed with a personalized name that will help to easily identify the ad zone in the Statistics tab.

Category: Select the category for the ad zone.

Subcategory: Select a sub-categories of the category you have selected above.
---
Note: See here for explanations of all the details that you need to fill in for each ad zone format.
---
Filtering the ads for the ad zone

In order to receive effective, appropriate and compliant advertising on the website, you can decide which kinds of restrictions you want to add for each zone that you create. You can do this in the Filter Ads section.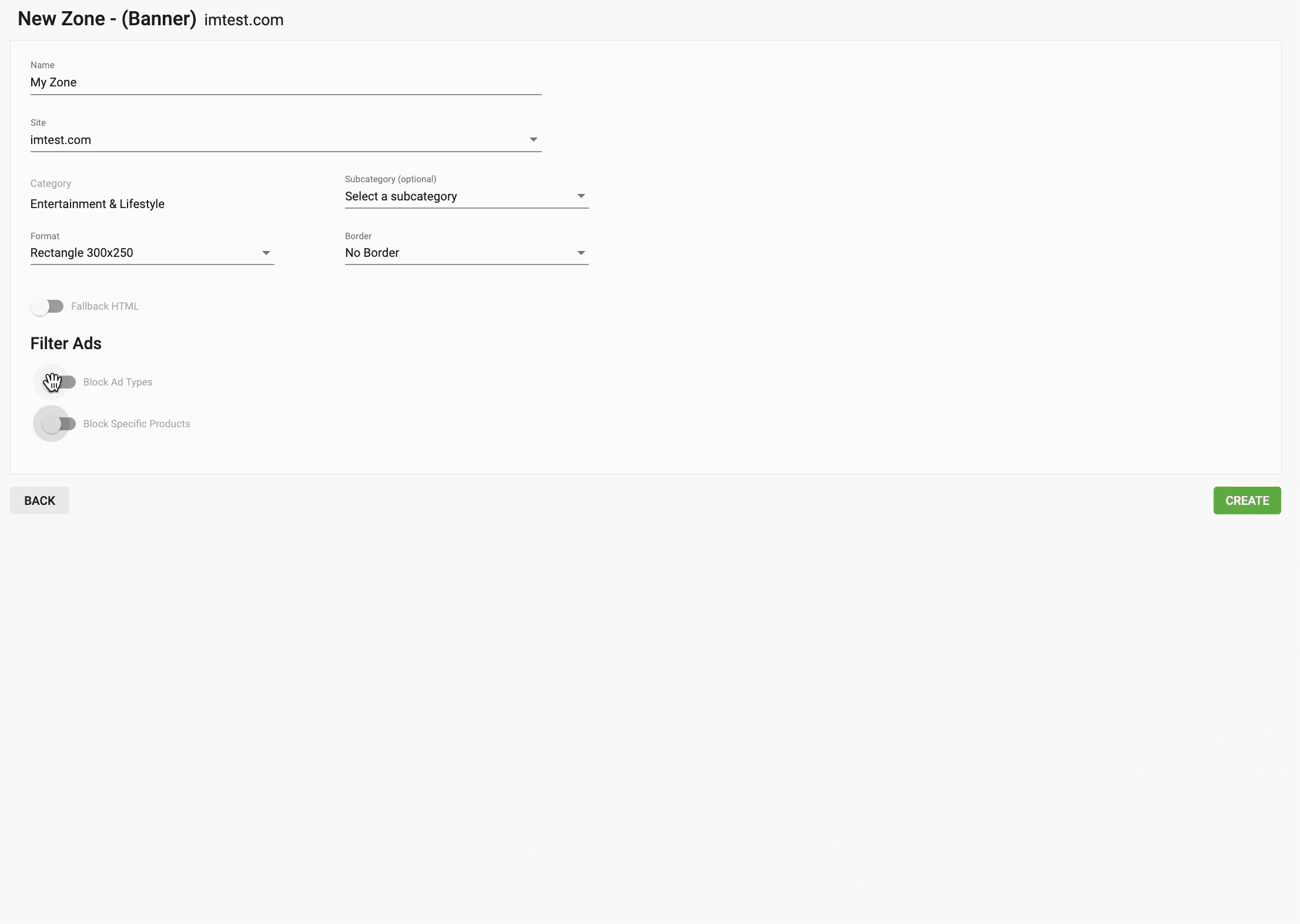 ---
Note: Some ad formats are automatically restricted so some options described below maybe not be visible/needed when creating an ad zone.
---
Block Ad Types

Here you can block certain types of ads, or specific target audiences by simply clicking the types of ad or target audiences that you wish to block.

 
Block Specific Products

Whether for personal reasons or local legal requirements, you may want to block certain adverts from your website(s). The six categories on this page from Adult to Utilities allow you to block these types of products.
---
Note: When adding blocks you are also restricting revenue potential, so you are strongly advised only to block when necessary.
---
Advanced Options

This section will be different depending on which ad format is selected.

 
Fallback HTML

Switching on the Fallback HTML option opens a few more options for your zone.

Floor CPM: Here you can set a minimum price (floor) that the ad zone will accept for traffic.

Type: A soft floor means that we will also run CPC and CPA campaigns that have an average eCPM higher than your floor CPM. It means that the floor is not 100% guaranteed.
---
Note: We recommend not setting minimum prices for at least a couple of weeks, so that advertisers can test the traffic, and start competing for it. Setting a minimum price from the start means a risk which can cause a lack of any advertising or revenue.
---
Alternative HTML tag: In this box, you can enter an alternative HTML tag that will show if the floor CPM isn't met.
---
Caution! If you add an alternative HTML code, NeverBlock will not work on the alternative HTML ad zone, but will work on the main ad zone!
---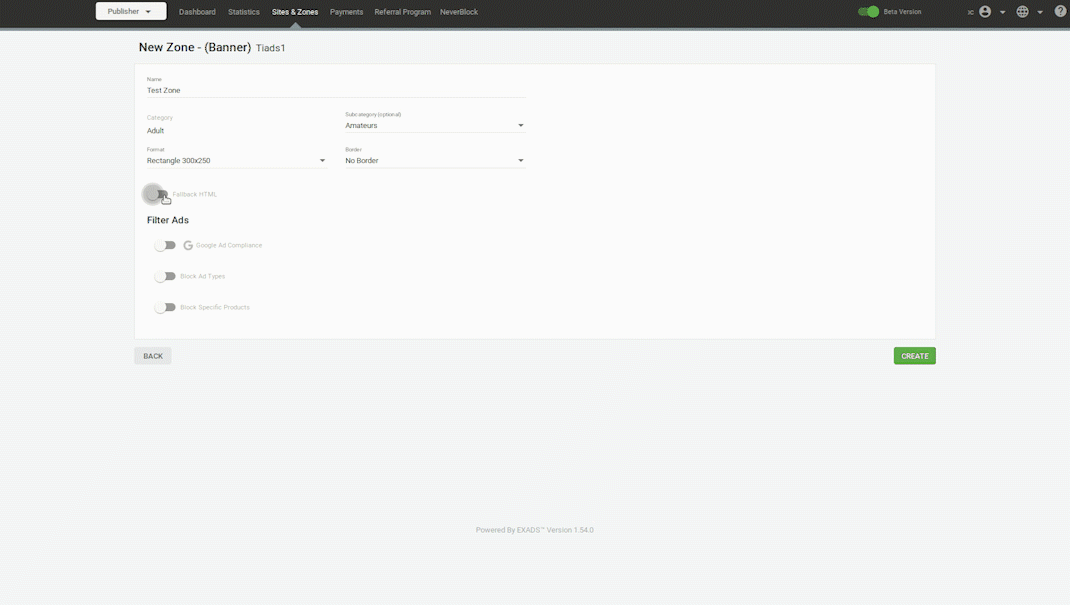 Code generation

In the final step you will receive the code that you will use on your site. Code should be placed into the 'body' tag.

Once the code is implemented the traffic should start within a few minutes.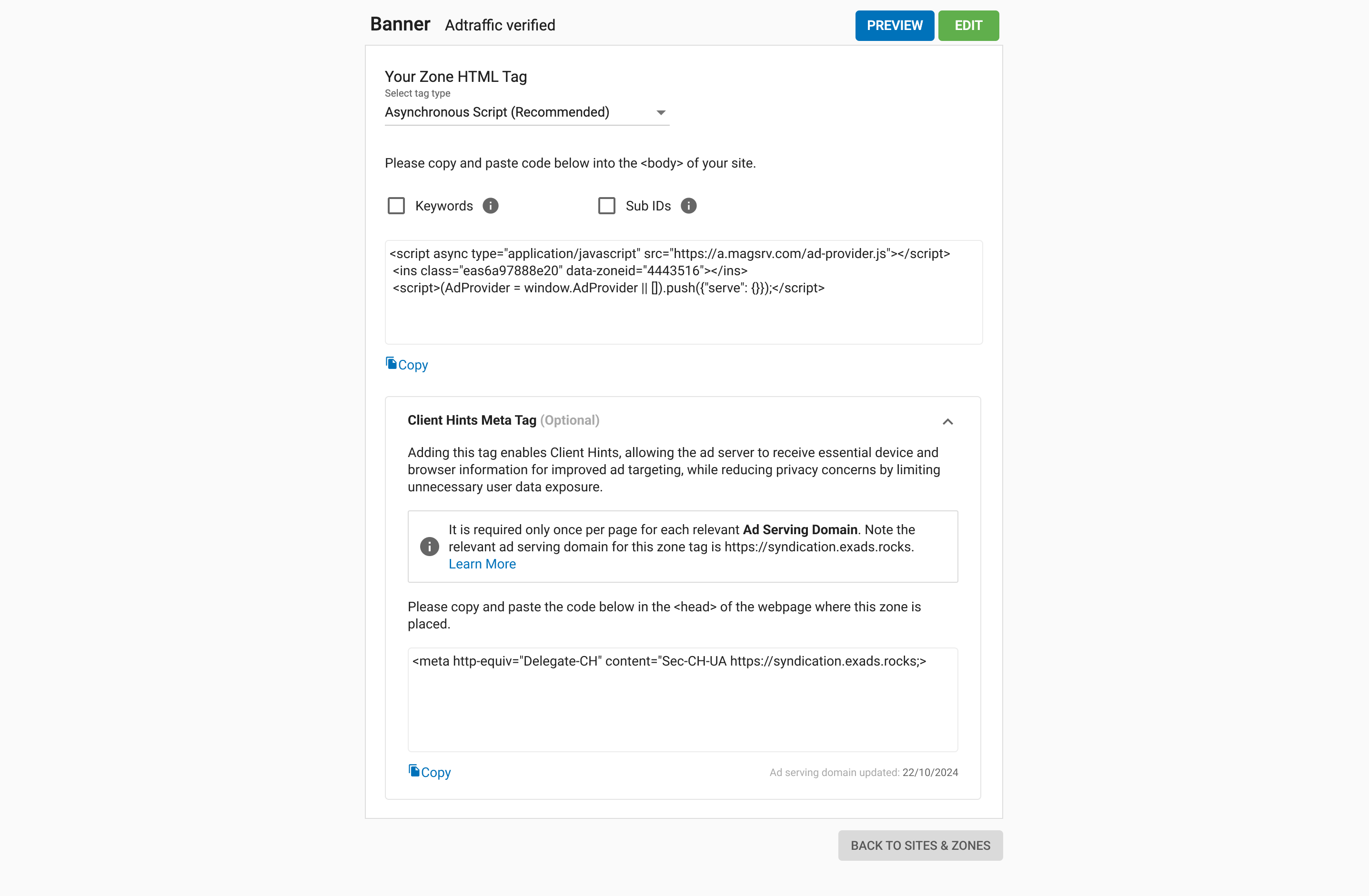 ---
Note: It is recommended that you implement the ad zone code as provided by the system. Modifying the ad zone code can affect the functionality of the ad zone.
---
Using keywords to improve advertising matches

We use two methods to identify content on your web pages so we can ensure you get the most appropriate advertising:

 
Method 1: URL detection matches

In this example - https://www.humourgames.com/ the keywords we would detect are "humour" and "games". If your URL contains any category used by our advertisers, we will send you advertising based on this match.

 
Method 2: Tags (Keywords) in your ad zones

In many cases your URL will not match a category precisely. In these cases, you can insert 'tags' into the code in your ad zones to manually match them to the type of advertising you want.

For example, you could insert the tags 'general' and 'humour' into your ad zone code, to ensure that you receive this type of advertising.

There are two ways of doing this, &ad_tags and &tags:

 
| Parameter | Used in |
| --- | --- |
| ad_tags | Banner, Popunder, Sticky Banner, Mobile Interstitial Banner |
| tags | iFrame, Instant Message, Mobile Instant Message, Email, Direct Link, All VAST Formats, All Native Ad Formats, Mobile Banner |
---
Note: When using multiple tags, they are separated with commas.
---
Examples of tags in use

In the examples below, we have added the tags 'humour' and 'general' to the ad zone codes for a banner ad.

To see how tags are used in all formats, click here.

 
Banner
Standard

Added &ad_tags='general, humour'
<script type="application/javascript">
    var ad_idzone = "1234567",
    ad_width = "300",
    ad_height = "250",
    ad_tags = "general,humour";
</script>
<script type="application/javascript" src="https://ads.examplesite.com/ads.js"></script>
<noscript>
    <iframe src="https://syndication.examplesite.com/ads-iframe-display.php?idzone=1234567&output=noscript&type=300x250&tags=general,humour" width="300" height="250" scrolling="no" marginwidth="0" marginheight="0" frameborder="0"></iframe>
</noscript>

iFrame

Added &tags='general, humour'
<iframe 

src

=

"//ads.examplesite.com/iframe.php?idzone=1234567&size=300x250&tags=general,humour"

 

width

=

"300"

 

height

=

"250"

 

scrolling

=

"no"

 

marginwidth

=

"0"

 

marginheight

=

"0"

 

frameborder

=

"0"

></iframe>

Notes about tags:
Using the tag(keyword) method takes priority over the URL keyword method. Therefore if the ad zone contains the tag "humour" but in the URL the word "games", the priority for the advertising to target your site(s) will be products for the "humour" keyword .
Currently, nothing else other than the URL/tag methods, are taken into consideration for determining the category of advertising you will receive.
Reasons why no ads are showing:

Once you have created your ad zone, it should begin to continuously generate earnings for you. This might not happen for several reasons:
Since our ads are geo-targeted, sometimes there may be no advertising running for your ad zone format, device or country. Check from a different device/country, or wait a few hours to see if ads appear.
Your site was rejected.
You didn't implement the ad code correctly, or you modified it. Please check your source code to make sure you followed all the steps correctly.
You restricted too many products or you blocked too many ad types.
Check that there is no ad blocking software running on the system.
To see which ad types and products are blocked for a zone, select the zone in the Sites & Zones page and edit it. In the Filter Ads section, under Block Ad Types and Block Specific Products you can see what is blocked for this zone.
Examples of problematic blocking
Example 1

If your ad zone is 'lifestyle', but you block all lifestyle products, you are unlikely to get global advertising to your ad zone.

Example 2

If you've utilised the advanced options and you have set conflicting or unrealistic options this will also restrict/block advertising. In this case you have set too high a floor for your CPM and so you will not receive any ads: