1. How can I check my funds/spending?

There are two ways to check your funding/spending.
Dashboard tab

From your Dashboard, where you can see your Balance, and spending for Today, This Month, and the last 6 Months.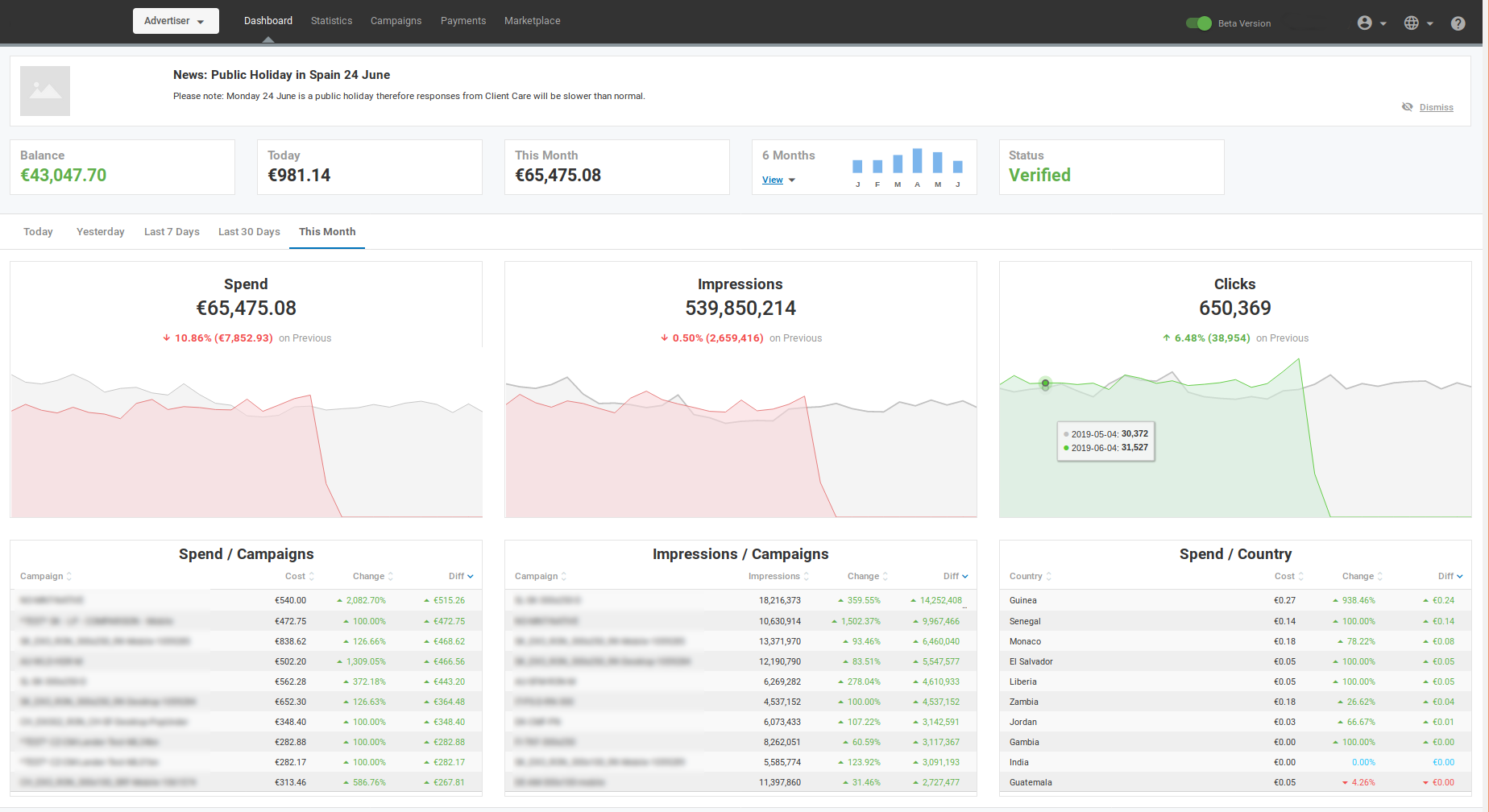 Payments tab

From your Payments tab. Here you can calculate your monthly spend by adding your opening balance and monthly transactions from the previous month and subtracting the opening balance from the current month.

Additionally from this tab, you can open, download in PDF, and print all your invoices for received payments.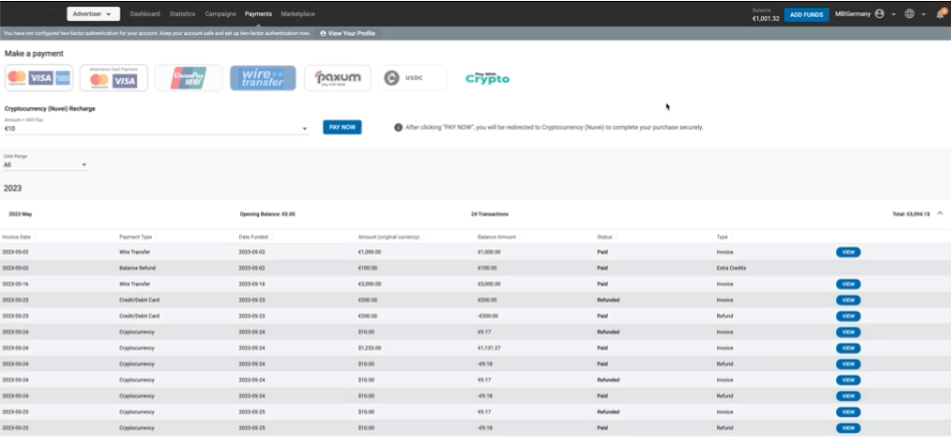 2. Why is my campaign not receiving traffic?
General reasons for low traffic

If your campaign is not getting as much traffic as you'd like, there are several possible reasons:
Check your account balance: Campaigns are stopped if there are insufficent funds.

Check the bid price: A campaign with a low bid could have been out-bid, and so is receiving little or no traffic.

High-quality countries and popular adspots: Campaigns targeting high-quality countries and/or popular adspots must have very competitive bids in order to receive traffic. The prices will change frequently as we operate in real time.

Check Banner/Adspot: If the banner size is incorrect, the campaign won't run. You should always use an image banner size that matches the format you chose in the first step of creating a campaign. Requirements for the different types of ads can be found here.

Sold out: If a spot or country is already sold out, then no traffic will be available. This might happen if the spot or country is under an exclusive deal.

Popular adspots: Spots that are used very often by Publishers, are therefore heavily targeted by Advertisers. This competition can make it difficult to get these spots if your bid is not competitive. Examples would be Banner 300x250, Banner 728x90 and Popunders.
Campaign targeting problems

You should also check the campaign targeting that you have set in the Targeting and Advanced tab:
How many impressions are available based on your campaign settings?

Have you chosen incompatible options e.g. targeting the Android operating system but only selecting iPhone in the Device Settings?

Is the bid price/budget too low or excessively high for the traffic you are targeting?

If a campaign is incorrectly using domain targeting, i.e. chosing a Premium site in Step 4: Sites & Zones of the Campaign setup but excluding it in Step 2: Targeting & Advanced will prevent the campaign from running.

Specific system settings: The campaign's domain/ID Zone targeting settings have been capped: Any campaign blocking or targeting more than 1000 URLs or 2500 ID zones will be automatically deactivated.
3. Campaign budget and traffic distribution

For new Advertisers who are setting up their first campaigns, the vast selection of target options we offer can be confusing. It's important then, that you are realistic when setting your campaign budgets, as targeting too many impressions on a small budget may cause you to overspend. We want to ensure you avoid that!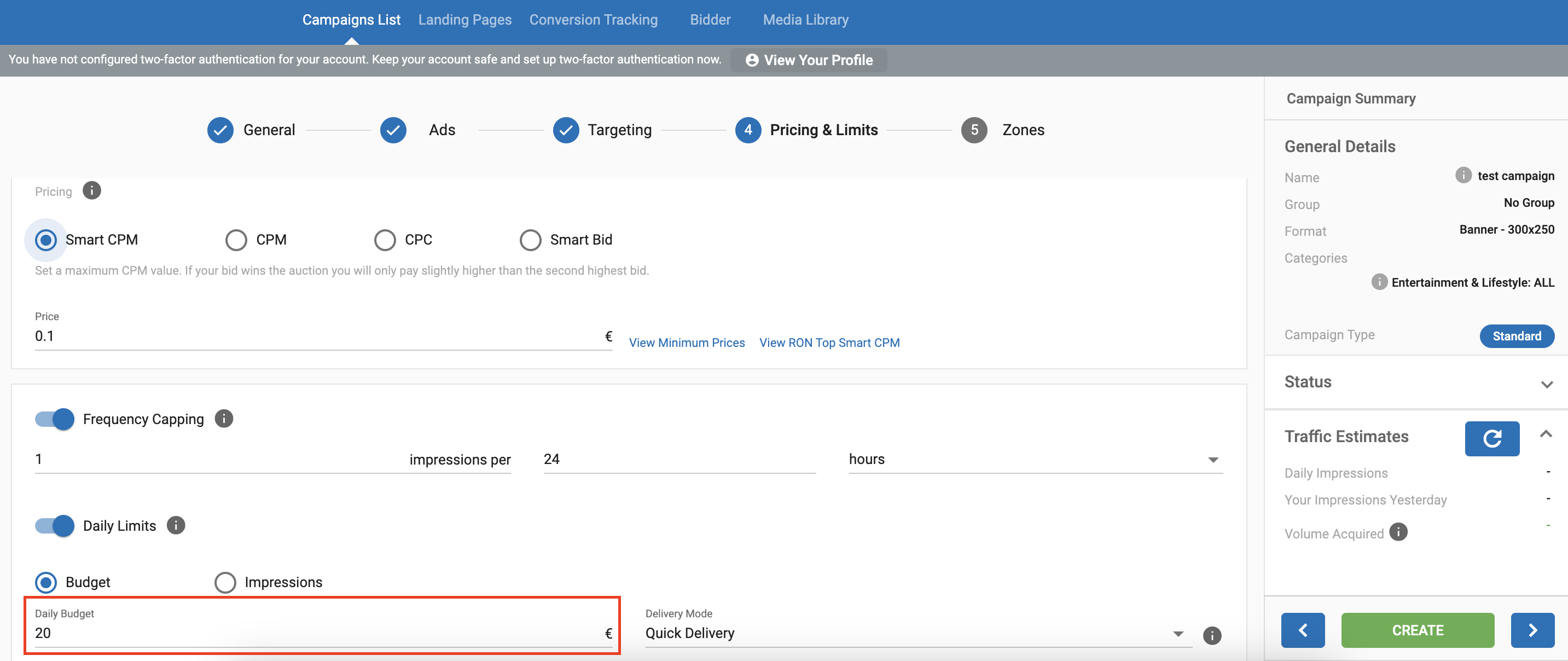 When setting up a campaign, look at the traffic estimation on the right side panel. If you are using CPM or Smart CPM pricing models, you may receive a considerable volume of impressions. Setting a low budget as in the example above will almost certainly lead to an overspend. Why?
Simply because servers will need a little time to recognize how much you have spent before stopping the campaign. In the example above, you will have spent your budget within seconds, and although our servers are quick, it will still take a minute or two before your campaign will stop.
Setting an appropriate budget
Option 1- Calculate the required budget manually

If you are the top bidder, let's say you receive between 5-10% of the daily impressions targeted. With that in mind and using the example from the screenshot above that means:
30,000,000 impressions/1000 (CPM) x bid price 0.10 = a budget of 3,000 per day
Option 2- Budget delivery mode

We have a feature in Step 3 of creating a campaign whereby you can choose how your campaign distributes the budget/impressions (see screenshot again). For those on small budgets you should choose the option Distribute throughout the day. If you do so, then instead of a budget of 3000 per day you should choose one for at least one hour's worth of traffic e.g. 3000/24 = Minimum budget of 125 EUR/USD.
Option 3- Reduce the number of targeted impressions

If you only want to test and do not want to spend more than 20 EUR/USD then reduce the number of impressions to fit your budget by making adjustments to your target settings in Steps 1 and Steps 2 of the campaign set up. Using the example in the screenshot above and assuming you will receive only between 5-10% of the traffic, the calculation would look like this:
20(budget)/ 0.10(bid price) x1000 (CPM) x 20 (assuming you are going to get 5% of the traffic = 4,000,000 impressions is the approx amount to target.
You can of course target more, using the Distribute throughout the day option or setting a lower bid price where possible and recalculating the approx impressions.
---
Note: We recommend monitoring your first campaigns and analyzing the statistics. Pause the campaign before making any adjustments, and remember it may take a couple of minutes for the campaign to actually stop spending.
---